PinkCupid.com Reviews
Last updated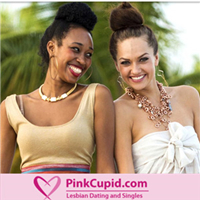 | | |
| --- | --- |
| Rating: | 4.5 / 5 |
| Found: | 2006 |
| Daily: | 50,000+ |
| User Base: | 1,000,000 + Singles |
| Visti Site: | www.PinkCupid.com |
As part of the Cupid network Pinkcupid.com boasts a ton of experience in the online dating world and this vast experience allows them to provide the best dating service possible for lesbian women. While this may only be one dating site niche they're involved in, the Cupid network is known for asking the right questions and providing the right matches no matter what your lifestyle choice. Pinkcupid.com has been one of the premier dating sites for lesbian women since 2006.
Data Breakdown
User Base:Millions of registered members
Popularity:80,000 unique visitors per month
As the number of members registered with Pinkcupid.com is increasing all the time it's difficult to provide an accurate assessment of the actual registered member's database size, but it is safe to say that it numbers in the millions. When you combine that with over 50,000 unique visitors per month there is great potential for finding a match on this site.
Main Features
·This site has a simple sign up process that will take you all of three or four minutes with three simple steps. They just ask the standard questions about your background, where you're from, and what you're expecting to find in a match.
·Searches have a unique picture focused interface. Once you perform a search the results returned to you feature nice large pictures of your potential matches with easy access to their profiles.
·The search function will also let you refine your search based on the type of lesbian experience you're looking for.
·At the top of your search screen you'll notice a prominently displayed message indicating the number of members currently online. If you click on this message the site will actually perform a search that only includes these members that are currently online so that you can see people you can chat with life.
Other Features
·Another interesting feature of Pinkcupid.com's search function is that you can actually choose to search based on the relevance of the matches which is based on data that you provided the site.
Pricing
1 Month Membership: $29.98 per Month
3 Month Membership: $20.00 per Month
12 Month Membership: $10.00 per Month

Ease-Of-Use
Pinkcupid.com is a very easy site to navigate your way around. Although there are a couple of ads on the site are not really that distracting and won't detract from your overall experience. All of the tools you need to navigate your way around the site are located along the top of every page and with a simple click of a button you can quickly open any page you like. One thing that could be done a little better is the addition of an easily accessible help/FAQ page – if there is one on the site I couldn't find it, having said that, there is a lot of other helpful information including a dating tip section and a link to some great success stories.
The site has included all of the features you need to make the right decision when you're looking for a match. It's their goal to make your dating journey as simple as possible. Some of the highlights of the user-friendly tools they provide you with are:
·Quick access communication tools located at the bottom of every member's profile
·They build your profile information gradually by asking you the occasional question as you search potential matches during your member searches
·They provide you with an easily accessible tab at the top of the page that shows you any activity with respect to your membership
Pinkcupid.com is a site built to make the user experience as friendly as possible. All the tools you need are always available at the simple click of your mouse. The idea of making the sign up process very simple and then adding to your profile later through the occasional unobtrusive question is a great idea that more sites should adopt.
Pros and Cons
Pros
·Millions of registered members
·Over 50,000 unique visitors per month
·Graphic oriented member searches
·Ability to refine your search based on the lesbian experience that you're looking for
·Number of members online is prominently displayed
·Quick access communication tools on every member profile page you visit
·Easily accessible activity page
Cons
·Help/FAQ page is not easily accessible
·Does include some ads
The Bottom Line
Pinkcupid.com is a very professional and well-organized dating site for lesbian women. It has all of the major features you'll find on every good dating site, but it's tailored towards lesbian needs. I particularly liked the ability to refine your search based on the type of lesbian experience you're looking for. With millions of registered members you're virtually guaranteed to find a match using this site.
Also read: What Makes Pinkcupid.com the Best Dating Site for Lesbians?
<< Back to Homepage