Her App Review
Last updated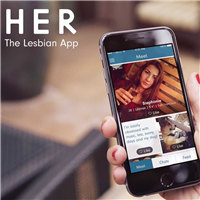 HER is seemed to be the biggest and greatest and most advanced dating app for lesbians and bisexuals worldwide. If you are new in the lesbian world or willing to meet and date someone with the same gender, HER is something you need to take a look at. It's free to download an app which works great on iOS 8.0 and above giving you full of joy while dating sexy and attractive lesbians. HER is definitely a great place for LGBTQ community.
We would love to take a closer look at this app.
Look and Feel
HER is a well-made app which has a professional feeling into it. User's interface looks great however it's very easy to use so there's no chance to be mistaken or use it in a wrong order. The layout is cool and very eye pleasant.
After running app for the first time, you need to register in order to set up a profile but it won't take more than a few minutes to be complete. After making an outstanding profile and giving a bit information about yourself you can start your LGBTQ journey.
Key Features
As we said before HER is a professional app and have lots of great tools packed inside to make you feel just like at home. This app had been loved by lesbians' community and got many positive reviews from individual, independent critics.
HER is dating and much more. You can find the latest news about LGBTQ community, join local events and share your mind with no limitation. It's 100% judgment free app where you can be just yourself and meet friendly and nice girls to date and friends.
HER community is very advanced and might bring lots of enjoyment to your life after joining. Do not be afraid and share your mind too.
Search for lesbian and bisexuals locally and nearby. Make a first move, say "Hi" and start dating today.
HER is a very safe place for lesbians and queers. All profiles need to be verified. This gives you a trust and chance to meet only real people.
Sending likes works like an invitation for a chat, if someone will response on you like, be sure this person is interested in you.
Add people to your friend's list in order to message them anytime and share local news about LGBTQ community.
HER is like a huge social media where you can either write or share audio and videos to make people comment on this and share their minds as well. You can set your relationship status and tell exactly who you are looking for.
HER is free to download and use app however some functions will be unlocked for free members. In order to unlock them, you need to upgrade your profile into one of the paid subscriptions called HER premium. Membership prices start from $14.99 USD for a month.
Pros and Cons
Pros:
·Easy to use and free to download
·Works great on iOS
·Best lesbian and bisexual dating app
·LGBTQ community
·Ability to join local events
·News feed just like on Facebook
·Ability to add friends
·No limitations in messages and communication
·Transgender friendly
·Reasonable membership prices
·Verified profiles
Cons:
·Not all features are unlocked directly
·Application allows trans woman to join, it means there might be some penis pictures
Final Words
HER is best lesbian dating application available on mobile devices and we totally agree on this. It's not only dating but a huge lesbian community where you can join instantly. Since every profile needs to be verified there's no chance for spam and talking to an unreal person. Reasonable membership prices make HER greatest and professional place for any lesbians and bisexuals. If you are a transgender woman this app will welcome you.
<< Back to Homepage